Straight teeth and a stunning new smile
Discover how our practice can help by giving you the smile of your dreams.
Teeth straightening treatments — known as 'orthodontic treatments' to us — work with your teeth to move and correct their alignment, giving you straighter, more enviable-looking teeth.
Teeth straightening can work for you if you want to straighten crooked teeth, would like to correct any overbite or underbite irregularities, or if you'd simply like to improve the functionality and long-term health of your teeth.
Before and after t
eeth straightening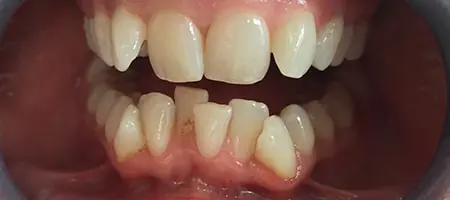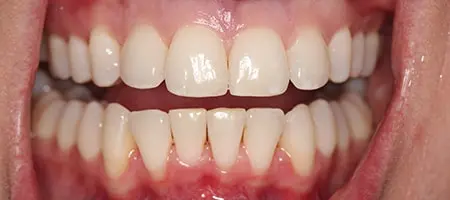 Our teeth straightening treatments are tailor-made to suit your unique alignment and to give you the results you'd like to see.
At Smile Rooms Wokingham, it's our aim to give you the beautiful smile you've always wanted, enabling you to have the confidence to show off your pearly whites wherever you go.
This also means we are available for consultations to answer your questions and put your mind at ease.
We understand how treatments such as teeth straightening can be intimidating — our expert team of professional orthodontists can talk you through the whole process, and even show you the equipment we use so that you are fully prepared for the treatment itself.
Orthodontic treatments with our team of expert orthodontists are efficient and safe.
Our specialists are highly experienced and have worked with hundreds of patients over the years to give them perfect smiles.
Book your free consultation
for Teeth Straightening
Free initial braces consultation worth £95
Free teeth whitening at the end of your treatment worth £

345

Free removeable retainers worth £495
Award winning dentists
Interest free finance & payment plans available to help with the cost
Due to COVID-19 we have limited appointments.
How can you look after your smile?
There are simple things you can do to make your treatment even safer in the long term, however.
One major action you can take is to make sure you brush regularly between meals, to ensure no food becomes stuck between your braces, and that any excess plaque is removed.
Orthodontic hardware is perfectly safe, but it can make it easy for bacteria to breed in your mouth, so keeping your mouth extra clean will stop any initial signs of decay.
We can also offer professional cleaning to make sure your orthodontics are perfectly clean and safe, but also to give you the confidence to keep smiling, even throughout your treatment.
When you first have your teeth straightening orthodontics installed, you may experience some discomfort.
This is normal — remember, you are moving your teeth's position inside your mouth! Your jaw, gums and teeth will soon adjust to the pressure, though, and you will find that it won't take long at all for you to become used to the sensation.
Often, over time, our clients tell us they forget they are even there.
Is

teeth straightening covered by the NHS?
The cost of teeth straightening can be covered on the NHS for children and is also considered an NHS treatment if you need orthodontics for health reasons.
Teeth straightening for cosmetic reasons is not covered by the NHS, though This is why at Smile Rooms Wokingham we have a range of payment options to make the whole process affordable and accessible for you.
Learn about our braces options
Invisalign Comprehensive
Unlimited Aligners
Invisalign Teen
Clear braces for kids
Lingual Braces
Fixed Braces behind teeth
Six Month Smiles
Fixed Clear Braces
Providing teeth straightening treatment for adults and children at all our dental practices, covering patients from Bracknell, Camberley, Sandhurst, Eversley, Farnborough, Wokingham and surrounding areas.
.