White spots on your teeth are very common, and white spot treatment is, in fact, one of the most popular treatments we offer here at Smile Rooms Wokingham. While they are perfectly harmless in most cases, due to their visibility and noticeability, white spots can really affect your confidence.
Before and after white spot removal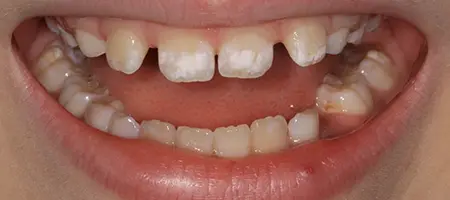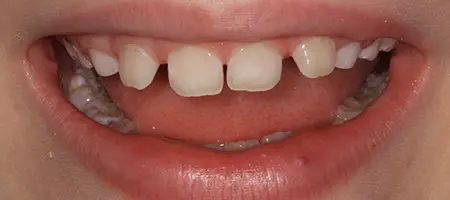 We've completed over
2500
cosmetic cases
and
5000 Invisalign Cases
Book your free consultation
for White Spot Treatment
What causes white spots on the teeth?
They are caused by several factors. Many of our clients believe they have developed white spots due to overbrushing or even through bumping or chipping a tooth. The truth is, there are several reasons why you may develop a white spot or two on your teeth — and some may have been there for your whole life and are only now becoming visible to you. Your white spots can occur because of:
Fluorosis: this occurs when there is a very high fluoride intake when the adult teeth are developing. This is quite rare

today

, and especially in younger people, as fluoride supplements have tighter regulations now than they have had in the past

Decalcification: this causes white spots when minerals are lost from the enamel. It can be caused by irregular brushing but is also common during fixed brace treatments because of lapses in excellent oral hygiene. The reason this is common is because cleaning around the brace brackets can be difficult
Molar Incisal Hypoplasia: this is a type of enamel deficiency usually occurring in children under the age of 10. MIH can cause teeth to suffer more from sensitivity and decay, and this condition can also take the form of white spots

Historic trauma: If you experienced trauma to your teeth as an infant, this may have caused white spots to form on your teeth

,

as they grew inside your gums. To understand how this might happen, think of this form of the white spots as a type of bruise, but in the enamel and structure of your teeth.
Are white spots ju

st

staining?
White spots are often confused for staining, and many of our clients have come to us for help removing the stains believing that whitening treatments are the solution they need. In fact, this would have little effect, as the white spots will always stay a lighter colour than the rest of the tooth, no matter how light you take your teeth.
In the past, the only way to treat teeth with white spots was to cover them up with veneers, or try teeth bonding to see if it improved the look of the teeth. These types of treatments require the removal or destruction of healthy tooth material, or they can cause serious abrasion – and if they are not necessary for the health of the tooth, our expert dentists don't like to promote them.
We prefer to offer solutions that work best for your dental health, while also achieving your desired outcomes.
Chat to Us About a No-Obligation Consultation
Once we have offered you a consultation, we will be able to give you a run-down of the best options available to you to improve the look of your white spots and give you the bright smile you've always dreamed of.