A healthier-looking, brighter and whiter smile in six months? Absolutely! Just chat to us about Six Month Smiles here at Smile Rooms Wokingham, as we'd love to tell you more about it.
Designed to perfectly complement your lifestyle, the '6 Month Smile' procedure combines the very best aspects of braces to give adults who are unhappy with their teeth an achievable and flexible approach to teeth straightening. Working with anyone's schedule – no matter how busy – the treatment takes just six months, spread over several appointments.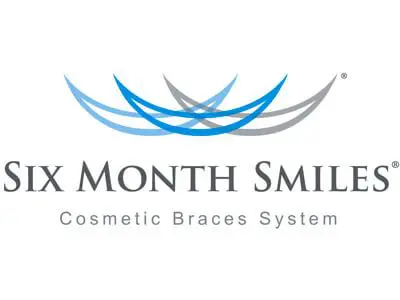 Book your free consultation
for Six Month Smiles
Free initial braces consultation worth £95
Free teeth whitening at the end of your treatment worth £

345

Free removeable retainers worth £495
Award winning dentists
Interest free finance & payment plans available to help with the cost
Due to COVID-19 we have limited appointments.
What happens during the 6 Month Smiles treatment?
You'll attend a consultation, during which your dentist will explain exactly what to expect during your treatments. This is also a welcome opportunity to ask any questions and have any of your concerns answered.
The Six-Month Smiles treatment includes fitting of Lucid-Lok™ clear brackets and tooth-coloured wires. These braces are barely visible and will set you on your way to a straighter smile.
So, what does the treatment include? As the use of braces has proven to offer the very best result when it comes to straightening, the Six-Month-Smiles™ procedure is the perfect option for anyone looking to improve the appearance of their teeth.
When you choose this option, you'll receive your very own Six-Month Smiles™ Patient Tray Kits™, which will ensure your appointments are smooth and comfortable. The best bit? The treatment times are quick, as well as being safe and hygienic. We want you to feel completely at ease when you visit Smile Rooms Wokingham for your teeth straightening procedure, which is why the treatments are designed to be short.
The braces we use for this procedure are clear, too, with wires which are tooth-coloured and very small. This means, your friends and family may barely notice you're undergoing teeth straightening -and you can go about your day with minimal disruption.
Can you offer a payment plan for Six-Month-Smiles?
Typically less expensive than traditional braces, the Six-Month-Smile™ procedure will complement your budget – and you can discuss a payment plan with us to ensure it is even more affordable.
Why does the treatment only take six months? It uses the latest technology and dentistry techniques to reposition your teeth swiftly and safely, with the key components of the procedure including special nickel titanium wires.
Can the Six-Month-Smile procedure damage my teeth?
If you're considering this treatment, be assured that there are no more risks of root damage or other issues than those associated with traditional orthodontic procedures. Teeth rarely need to be extracted and there are even fewer risks with 6 Month Smiles™ orthodontics.
If you have any questions about any element of the procedure, do not hesitate to get in touch with our expert team of dentists, who will be more than happy to tell you anything you need to know.
How Do Six Month Smiles Braces work?
Just like traditional fixed braces, Six Month Smiles uses inconspicuous wire, connected by clear brackets to gently push your teeth into their new position over the course of six months.
The main difference from traditional clear fixed braces is that Six Month Smiles focuses only on the front teeth. This treatment may not be suitable for everyone, especially if you have problems with your bite, but many people throughout Wokingham are using the Six Month Smiles braces for their teeth straightening and to transform their smile!
Book a free appointment to find out more about Six Month Smiles braces.
Why Choose Six Month Smiles?
The Six Month Smiles braces are perfect for you if you're worried about the appearance of your front teeth
These clear fixed braces are very discreet and most people won't even know you're wearing braces!
Treatment is quick with most taking an average of six months to complete
These affordable braces are cheaper than traditional braces because the treatment focuses only on the front teeth
The friction free technology reduces the pressure which reduces the discomfort on these clear fixed braces
Learn about our braces options
Invisalign Comprehensive
Unlimited Aligners
Invisalign Teen
Clear braces for kids
Lingual Braces
Fixed Braces behind teeth
Six Month Smiles
Fixed Clear Braces
Providing teeth straightening treatment for adults and children at all our dental practices, covering patients from Bracknell, Camberley, Sandhurst, Eversley, Farnborough, Wokingham and surrounding areas.
.