Invisalign Teen Braces, Wockingham
Are you considering braces for your teenager? Perhaps you didn't already know, but Invisalign – which offers almost-invisible braces – provides a version with teens in mind. The procedure is available here at Smile Rooms Wokingham and our dentists have been performing the treatment for years.
Using a series of clear, removable dental aligners that have been made for your teenager's teeth, the popular Invisalign programme will help straighten their smile and boost their confidence. After all, when their teeth aren't completely straight, their self-esteem may suffer as a result. In some cases, though, crooked teeth can cause issues, particularly in later life.
How does Invisalign for teens work?
If you're wondering how the Invisalign Teen treatment works, allow us to tell you. As opposed to wires and brackets, the procedure uses clear aligners that are barely noticeable. Your teenager will then simply wear them over their teeth, changing them with a new set of aligners every fortnight or so. The idea is that, over time, their teeth will gradually move into place, to help them achieve a straighter smile.
Blue Wear Indicators
The Invisalign Teen has a blue indicator which fades as you wear the aligner to ensure that you're wearing it for the specified 20 to 22 hours a day.
Room to Grow
The Invisalign Teen has been designed to leave some space for the growth of adult canine and molar teeth.
Replacements
The Invisalign Teen braces includes six free replacement aligners in case any go missing during your treatment.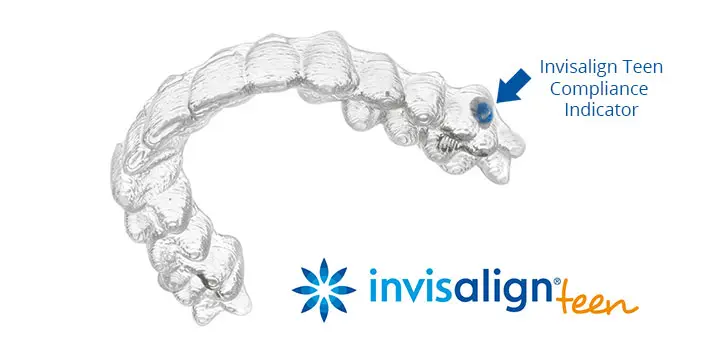 Book a free appointment to find out more about Invisalign Teen braces.
How does Invisalign Teen compare to traditional braces?
The procedure is just as effective as traditional, metal bracket-style braces; just because the aligners are barely noticeable to others doesn't mean it is any less successful a procedure. Treating mild to severe cases, Invisalign for teens can help with underbite, overbite, overcrowding and gaps between the teeth.
If your teenager is sporty, they can simply remove their aligners when they're playing football or swimming, for example. There really is no need for Invisalign for Teens to get in the way of their normal lifestyle.
What about eating with

Invisalign for teens

braces; is there anything my teenager should avoid?
With traditional braces, your teenager should avoid lots of foods – from popcorn to apples. But with Invisalign, there are no restrictions at all. As the aligners are removable, they can also brush and floss normally to ensure their usual dental hygiene routine isn't disrupted.
Want to discuss the cost of Invisalign for teens? Just get in touch with our team here at Smile Rooms Wokingham and we'd be happy to tell you more. We can also arrange a payment plan for the procedure to help you budget for Invisalign for your teenager. This will ensure you can manage any payments much easier – and you may find Invisalign a much more tempting prospect.
There is no need for your child to feel nervous about the procedure, either. Our skilled and friendly team will make them feel relaxed as soon as they walk into our practice – and if they have any queries, they will get all the answers they need.
Get in touch with our team if you have any questions at all and we'd be more than happy to answer them.
Improve your smile today!
Book your appointment online
Ewan – Invisalign For Teenagers Case Study

With Ewan's passion for the stage he didn't feel metal fixed braces would be suitable for him and wanted a more discreet way of straightening teeth – Invisalign Teen was a great option for him.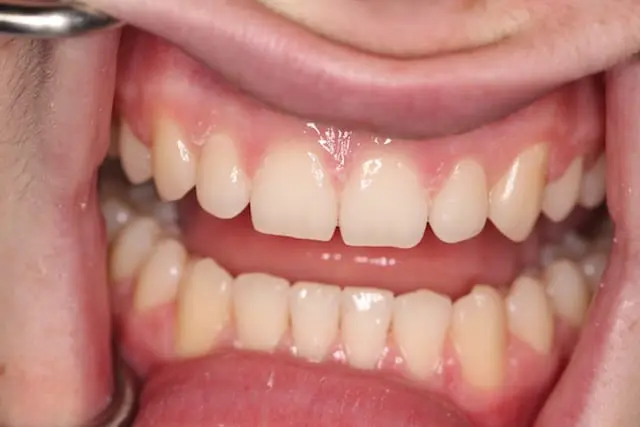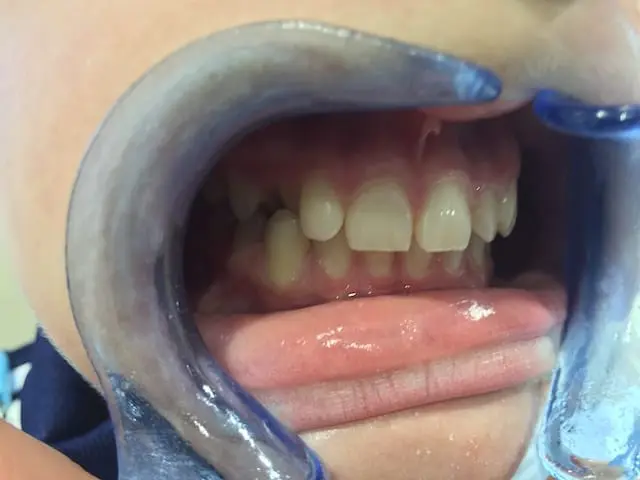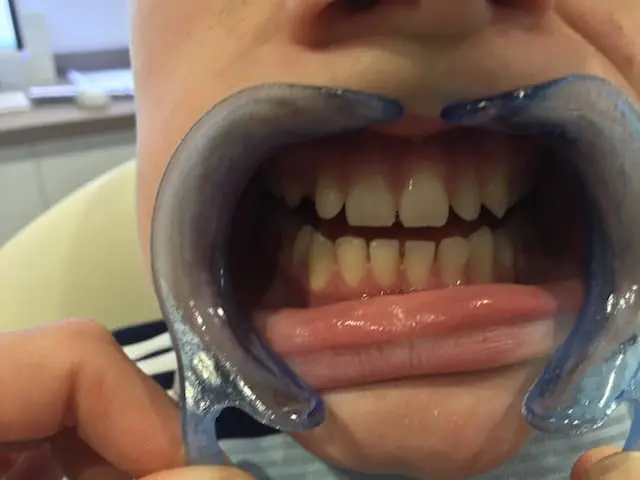 What is Invisalign for teenagers?
Invisalign is the virtually invisible way to straighten your teenager's teeth without the restrictions that come with metal braces. Instead of metal wires and brackets, Invisalign uses a series of clear, removable aligners that have been custom-made for your teenager's teeth. They only need to be removed when they eat, drink, brush and floss. Your teenager will simply wear them over their teeth at all other times, and every two weeks will change them for a new set of aligners. Gradually the teeth will shift into place, achieving a confident new smile for your teenager.
The practical advantages over traditional braces?
With Invisalign the aligners are removable, so your teenager can play sports without the worry of being hit in the mouth by a ball, which can cause real damage to metal braces. They can also continue to play their musical instruments after removing their aligners (unlike with metal braces where they may get in the way). With metal braces, there is a long list of foods that can't be eaten, from popcorn to apples and raw carrots. The great news is there are no restrictions with Invisalign. The removable aligners make it easy to brush and floss like you normally would to maintain good oral hygiene.
What teeth conditions does Invisalign treat?
Invisalign can be as effective as traditional metal braces for the most common teeth straightening issues. Invisalign can effectively treat mild to severe orthodontic conditions cases, including underbite, overbite, overcrowding and gaps between teeth. The chances of your teenager being a great candidate for Invisalign are very high, but to be sure please book a free consultation first.
Learn about our braces options
Invisalign Comprehensive
Unlimited Aligners
Invisalign Teen
Clear braces for kids
Lingual Braces
Fixed Braces behind teeth
Six Month Smiles
Fixed Clear Braces
Providing teeth straightening treatment for adults and children at all our dental practices, covering patients from Bracknell, Camberley, Sandhurst, Eversley, Farnborough, Wokingham and surrounding areas.
.