Dental Implants in Wokingham
What exactly are dental implants – and how will they benefit you and your smile? A good choice for anyone with missing teeth, dental implants can fill in gaps while looking and acting like real teeth.
The most permanent way to replace teeth, due to an accident for example, dental implants offer a natural look. In fact, when you get dental implants, no one need ever know they're not your natural teeth!
There are different types of dental implants available such as single implants, and All-On-4 dental implants (suitable if you have no teeth at all, as it only uses 4 implants); your dentist can help advise which type is the best for you. But often, it will depend upon how many missing teeth you have, and the state of your oral health.
Even though we are sure that you will love the result, we understand that dental implants can be expensive investment in your health. We offer 12 months 0% finance to help manage the cost of the treatment, and this means it can cost you under £7 per day.
Monthly cost of Dental Implants Treatement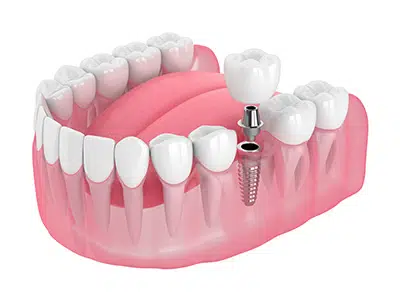 Have a failing or missing tooth?
From £49.83* Per Month
We provide dental implant treatment for replacing a single tooth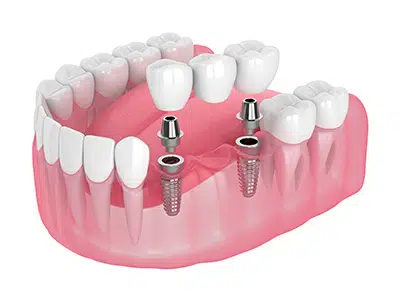 Have a few failing or missing teeth?
From £79.13* Per Month
We have dental implants treatment for multiple missing teeth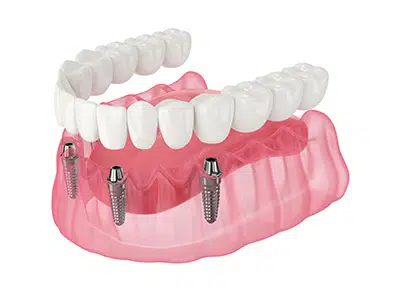 All teeth are failing or missing?
From £208.26* Per Month
We offer treatment to replace all the teeth on your lower or upper jaw
We've completed over
2500
cosmetic cases
and
5000 Invisalign Cases
Book your free consultation
for Dental Implants
Replacing a single tooth with dental implants
Replacing multiple teeth with dental implants
All On 4 dental implants for upper and/or lower jaw
How Are Dental Implants Different From Dentures?
Dental implants are permanent, as they're fixed to your jaw, while dentures are removable. You probably know someone with dentures, and you may have noticed that they take them out at night – or while they're resting.
A great idea for anyone who's looking to replace gaps in their mouth, implants help transform the smiles of plenty of people – and here at Smile Rooms Wokingham, implants can do the very same for you, too.
What Exactly Are Dental Implants?
If you're wondering what dental implants are made from, allow us to tell you more! When you choose this procedure, a titanium post is carefully placed into your jawbone (beneath the gum) and a replacement tooth (or teeth) is then fixed to the post.
The treatment begins with a consultation – and often, you'll visit us for this first appointment on a different date to the procedure itself. This gives you plenty of time to think about the procedure before you get booked in to have the implants fitted. In the meantime, you can ask any questions you like about the treatment itself – and, of course, you're also welcome to ask any questions during your consultation.
The treatment is carried out by our award-winning dentists, each of whom has years of experience fitting dental implants to our patients.
What Happens During The Dental

I

mplants

T

reatment?
After your consultation at Smile Rooms Wokingham, we'll examine your teeth and your dental health – and we'll look at your existing and missing teeth before chatting to you about the treatment. We'll then take some X-Rays.
During your treatment, we'll give you a local anaesthetic which will help manage any pain or discomfort. We'll then make a tiny cut into your gum, before making a small hole in your jawbone. The titanium peg will then be placed here, before the dental implant is fitted with an abutment. This is like a screw and it is used to hold the new false teeth in position.
Finally, you'll be ready for the final step of the treatment. This is when the replacement teeth are fitted to the implant abutment. Giving you a dazzling new smile, this is the most important step of the procedure.
In some instances, a temporary set of teeth will be fitted while your permanent set is made. Your permanent set will then be fitted later.
Have any questions about dental implants? Do not hesitate to get in touch with us here at Smile Rooms Wokingham.
The dental implants procedure
The process for dental implants is quite straight-forward. The dentists at Smile Rooms, Wokingham are fully qualified, highly experienced and have successfully dealt with thousands of dental implant cases.
Step Two
We take x-rays of your teeth, discuss your state of health, analyse your existing and missing teeth and discuss your course of treatment.
Step Three
Your dentist at the surgery in Wokingham, will give you a local anaesthetic and will then make a small cut in your gum. A small hole is drilled into your jawbone which will hold the titanium peg.
Step Four
The dental implants have a screw called an abutment which holds the new false teeth in place permanently.
Step Five
Your new replacement teeth will be fitted to the implant giving you a brilliant new smile! If the dentist needs to do this at a slightly later appointment, he may give you temporary bridge so that no gaps in your teeth can be seen.