We offer finance & 0% payment plans
Below is our guide to our fees. These are fixed and completely transparent with no hidden costs. Whilst prices may vary between our dental practices, please be assured that our fees mirror our dedication, quality of care and service to your life-long oral health.
Select one of our fees guides
| Treatments | Fees |
| --- | --- |
| Cosmetic consultation | FREE |
| Orthodontic consultation | FREE |
| Whitening consultation | FREE |
| Dental exam inc X-rays | £40 |
| Child Exam (under 16 ) | £25 |
| OPG | £150 |
| Emergency appointment | £49 |
| Root canal treatment | £450 – £650 |
| Re-root canal treatment | £650 – £850 |
| Extraction | £97 – £360 |
| Surgical extraction | £180 – £360 |
The entire process to support me with my root canal and crown procedures has been nothing short of wonderful. You feel supported throughout with the welcoming and professional approach which from all my previous experiences you expect some elements of customer communication and experience to be below par but I have now been proven wrong. I believe their model of customer experience is one which leaves you reassured you have chosen the right practice. I can't praise them enough as we all know the dentist is never the most exciting place to visit coupled with anxiety and apprehension. It's those fears and concerns which swiftly are forgotten when you are welcomed to all the practice representatives.Big thanks to Dr Bikram for the super work on my crown and for the Doctor who did an amazing job on my root canal.From my experience you wouldn't want to go anywhere else once you've had the opportunity to visit.I hope more professional services adopt and promote such a caring empathic considerate and welcoming environment.All the best.
Since my first contact with Dr Albert, he has been amazing!!! He is very reassuring and filled me with confidence in choosing my treatment with him. I chose him for my Composite Bonding as I loved his work, but he has blown me away with my results! He has gone above and beyond to give me a Perfect Smile!During treatment he checked on me throughout and informed me of different parts of the treatment, making me feel very comfortable.I am beyond happy with my new smile, it's better than I ever could have imagined - and so couldn't recommend Dr Albert enough!All the girls at Smile Rooms Windsor are also Fab! They have been very supportive in the lead up to my treatment answering any questions I had.Thank you SO MUCH Dr Albert - you are a dental genius and I'm so grateful for your talent!! I will no longer be afraid of smiling in pictures!
I feel grateful to have found Smile Rooms. My brother's partner, my auntie and I have all been recommended to come here. Even more, I'm very happy with my Invisalign and Dr Narang (who did my filling this evening) was very precise and friendly. Even though it was a late evening appointment, there was absolutely no rush and he made sure I was very reassured and comfortable during the procedure.
I recently completed Invisalign treatment, composite bonding and whitening at Smile Rooms in Windsor with Dr Albert and am throughly impressed with my results! Dr Albert and his team were incredibly kind and always so helpful!
I have just completed my Invisalign treatment and I am really pleased with the results. The team at Smile Rooms have always been really professional. I thoroughly recommend this practice.
I first learned of Smile Room in November 2021 when I had a dental emergency. They have been nothing short of a combination of both professional and welcoming and really take care of their patients. Very happy with their service and Kim is wondeful. Highly recommend them.
I had composite bonding done at the smile rooms by Dr Radha, which I travelled up from London for and it was so worth it! All of the staff are amazing, super friendly and welcoming - they made me feel right at home. I am so so happy with the results, it's boosted my confidence so much and I can't stop smiling. Thank you all xxx
Outstanding service from everyone. From the first moment I felt very comfortable. Dr.Sanjeev and the team are amazing. They are all very professional and I am very satisfied with my treatments. I will definitely come back. Thank you very much for all your help, you guys are the best.
I have done my full teeth renovation (composite bonding), it took me two appointments 5 hrs each, and now I have proper teeth. I have to mention the skills of Dr. Albert Gajdos, he is like an artist, very professional and he know what he is doing, right advise and brilliant finished product.The procedure is pain free, I even did not use any injections to num the gums. If you have cracked or uneven teeth, highly recommend bonding procedure.
One of the best dentists I've ever been to, everyone is so welcoming and friendly. Dr Radha Sisodia is brilliant at her job and I always leave happy.
I was diagnosed with cancer in May '21 and was advised to see a dentist before treatment started. I'd never been to SmileRooms before but chose them as they we conveniently located. I've had to go back a few times to get some dental issues, caused by the treatment sorted out and each time the team have been highly professional, engaging and all round great people! So thank you SmileRooms! Every time I leave you I feel so much better!
Had a wonderful experience at smile rooms, was given excellent advice and felt like I was guided through the process so well. I'm so happy with the end results of my Invisalign treatment!
I recently visited smile rooms and i could not be happier, very professional and friendly staff i would definitely recommended them
Lovely staffs and dentist. Hopefully my crown sorted.
Such a great experience, Dr Albert has transformed my smile with Invisalign! Couldn't recommend enough !
I have never liked going to the dentist and the thought of major works on my smile really filled me with dread. But the service I received was first class, the customer service was excellent, all the way through my treatment their priority was my comfort. At no stage did i feel discomfort in any way. If you are thinking about having treatment I recommend you visit these guys.
I received excellent care from all of the staff at Smile Rooms, professional, courteous and took time to give advice and guidance on the best choice of treatment. Radha was gentle, skillful and I couldn't be happier with the result.
I couldn't recommend smile rooms enough, from the dentists themselves to the reception staff, everyone is friendly and I was always made to feel comfortable.I am so happy with the results of my Invisalign treatment and am so glad I went with smile roomsAlso Dr Albert is a perfectionist and I would definitely recommend him if you are considering Invisalign 😊
I have just finished my Invisalign treatment here with Dr Albert and am so happy with the result. My teeth look straight and natural and I no longer feel like I have a goofy smile. They never pushed any unnecessary services or expenses on me. The team are always so welcoming and friendly. I would definitely recommend.
Thanks so much to hygienist Michelle for an amazing result! Feeling confident again with my sparkly clean teeth ☺️
Have just started using Smile Rooms after moving to Windsor and could not have chosen better. The premises have the perfect balance of being cosy and clinical. The front of house staff are personable, professional and a joy to engage with. The dental team lead by Dr. Sanj in my case are exactly the same which makes the whole experience a pleasant one. All procedures performed have been of the highest standard and would definitely recommend Smile Rooms to anyone!! Top bananas!!
Very good service. Put my mind at ease. Everyone is very friendly polite and professional. Would recommend
Extremely happy with the service provided by Smile Rooms. I came in for tooth contouring and the results were amazing. Staff were very friendly and Dr. Radha did a fabulous job. Will definitely visit again!Nilan
After not being able to get an appointment at my usual dentist hygienist until forever, I called smile and booked an appointment. I'm a nervous patient, with highly sensitive teeth, but I need not have worried. Wonderful, friendly service, cheaper than I expected. I had the rolls Royce of teeth cleaning and it was £78 compared to the £150 at my usual dentist. Guess who is switching dentists!
Amazing service from Smile Rooms. Albert has been top class and so have all the girls in the team also. Super happy with the final outcome and although it took a while, good things come to those who wait as they say! Would thoroughly recommend Invisalign via Smile Rooms for anyone interested.
My Invisalign journey was flawless thanks to the amazing staff at smile rooms. All the staff go above and beyond to give the great service you receive. Very happy to have them as my dentist
Lovely folk!! Went in after nearly breaking my jaw and they couldn't have been nicer or more helpful, 5/5!!
One of my teeth had fractured in February - never had this before. But they had me booked in a day later. Dr. Gajdos did a phenomenal job on the temporary filling (I almost didn't want to take it out). A few weeks later, Dr. Siva not only did an incredible job in replacing the temporary filling with a composite filling, but he gave a detailed analysis of each tooth in my mouth and on the health of my gums and even offered a follow-up to make sure the composite filling 'sat right' with the rest of my teeth. Not enough words could describe how professional, caring and friendly the staff are at Smile rooms. In a really scary situation, they really make you feel cared for and calm and much of that is due to the Lovely patient care coordinators. I highly recommend them.
Can't speak highly enough of the team. Very friendly and make you feel welcome. Interpreted what I wanted with the bonding, Radha is a genius.
I got composite bonding on my 6 top teeth and Dr Albert did an incredible job! I can honestly say my confidence has spiked and it's only been a few days with new teeth. I've always struggled with my teeth and Albert explained the process and made me feel so comfortable. The whole smiles room team made me feel at home and were always welcoming. This treatment was pain free and the results are amazing! I'll recommend smile rooms if you're thinking of getting work done. Thank you everyone at smile rooms for making my dreams come true
I have recently won a competition with Dr Albert to get composite bonding done and honestly I have no words. The results are incredible I couldn't be happier with the whole process and the way I've been looked after by the team. Nothing is ever too much and during the treatment I was made to feel so comfortable. Can't thank the whole team at Windsor enough
Can't recommend enough Smile Rooms hygienist Michelle Novales. She was very thorough and her attention to my teeth was amazing. Very friendly and made me feel at ease and explained everything as she clean.
Dr Radha is unbelievably amazing! I needed a few tweaks to make me feel more confident with my smile. She has been so informative, advised me on the whole journey and let me tell her exactly what I want. Within a few weeks she has radically changed my teeth and I am SO HAPPY that I cried when I got home! She has even managed to visibly reduce my underbite simply using composite bonding. The nurses and the reception team are second to none and I cannot explain how highly I recommend this practice. This is one happy lady with fantastic teeth!
I saw Michelle and her team today . I felt so relaxed with them all and I have to say she's the most caring hygienist I have seen .
Great friendly team & a great help with my emergency broken tooth/filling. Best dentist experience
I've been delighted with the care I've received at Smile Rooms. They are very professional, kind and reasonably priced! I would deffiniteky recommend 😁
Great service and very friendly
What a great experience! From the moment I walked into the spacious and stylish Smile Rooms offices in Windsor, my visits were an absolute pleasure because of the kind and friendly staff, Dr Radha in particular was really lovely. I am SO pleased with the result of my teeth whitening and am delighted to give the whole practice an enthusiastic five-star review.
After chipping a tooth, I reached out to Smile Rooms for an emergency repair. Never did I imagine I would find my favorite dentist ever there, who kindly, masterfully and easily repaired my tooth with ease. I immediately made an appointment with the hygienist, and on that visit was treated with the same expertise and care. The bright, super clean clinic is lovely, and filled with a welcoming happy staff. Kimberly who is at the reception desk is wonderful. You can't go wrong seeking care from this clinic.
Amazing service. Dr Albert and the team were amazing right from our first meeting. Couldn't have asked for anything more. I would 100% recommend them to anyone. You can't go wrong with smile room. Big thanks to Dr Nathwani as well. Amazing dentists with high standards.
Today I visited Smile Rooms for my first appointment with the lovely hygienist, Michelle, who was assisted by Fiona. I was amazed by the speed and efficiency of my appointment and how gentle and precise it felt in comparison to hygiene appointments I've attended in the past. My teeth feel so much lighter, cleaner, smoother. Michelle has an elegant and kindly manner and instructed me re caring for my teeth going forward. I was impressed and encourage people struggling with anxiety related to dental appointments to call this clinic and get on with it :) They will look after you.
I decided to go private after a poor experience with a NHS practice and after reading the excellent reviews on Google I took a chance to try Smile Rooms and I am so pleased I did! All the staff are friendly and they took into consideration my anxieties. I saw Dr Sanjeev who is so thorough, gentle and reassuring. He asked me my concerns, and after an examination and clean, we talked about further treatment options. I will be going back to Smile Rooms for my routine check ups and clean from now on. Thank you to everyone at the Smile Rooms team :)
Completely incompetent, I wouldn't waste your time or money. They have no value for time or new patients. Go elsewhere.
I have been Consistently confronted with the most friendly, warm and kind staff at smile rooms in Windsor. Every single person at Smile Rooms, on every occasion, has made me feel welcome.I have seen two of the dentists at the practice and recently an implant specialist. I had 2 crowns on heavily filled molars that other dentists told me couldn't be done and a replacement crown on another molar. I also had a front tooth repaired with composite and I am about to proceed with an implant for a missing tooth. The crowns are fantastic, in fact they are completely indistinguishable from real teeth (unlike my crowns done elsewhere) I'm so happy with them. The composite repair was absolutely the best I have ever had over the years I've had a chip on my front tooth and the implant specialist made me feel completely confident in his skills and in the quality of the process and product. I couldn't imagine going anywhere else and even though I've moved from the area I will always go back there.The best dentists with the highest standards, skills and talent and totally the best non-dentist staff anywhere with nothing but their patients best interests at heart. If I could give them 6 stars ⭐️ I would.
Dr Albert is excellent. Really cares about his patients. Would highly recommend
Dr Radha Sisodia is very professional and caring. She puts you at ease and explains everything clearly and truthfully. It was the first time I felt totally comfortable the entire time in the dental chair. This is what dentistry should be.I am more than pleased with the treatment I have received here. Highly recommended!
I can't thank Dr Albert and the team at Smile Rooms enough! The results of my whitening and composite bonding surpassed all my expectations!
Excellent service from all of the team, they really look after you and make the experience so simple. Albert is a great, reassuring pair of hands and will walk you through everything you need to know.I cannot recommend these guys highly enough. The results are fantastic.
I can honestly say that visiting smile rooms was the best dental experience I've ever had. All the staff are so friendly. Dr Sisodia put me right at ease and exceeded my expectations. Finally have the confidence to smile again! Thank you so much!
Had the best dentist experience through out my course of treatment form having my silver filling changed to white which was so painless compared to previous experiences. To the final look with my new composite bonding giving me a smile to be happy with. Thank you Dr.Radha Sisodia and all the friendly team x
Was treated very good, lovely staff.
Fantastic dentists! Recently completed Invisalign with Dr Albert who has been really excellent throughout and I'm so happy with the results! Everybody in the team has been so friendly, helpful and professional. Thank you!
🤩🤩 Smile Rooms Windsor... where do I begin. Throughout this pandemic they have displayed such professionalism and kindness. All of their staff are so welcoming, always smiling and always ask how you're doing. The ladies at the front desk are lovely!!I saw Dr Radha Sisodia !! I was very nervous the first time but her whole demeanour makes you feel ease. She's so easy to talk to and gives you clear information and advice! I started my Invisalign treatment with her and it needed further consultation (I thought there was something terribly wrong!). She was amazing at explaining all of my options to me including potential risk but ultimately supported me to make the best clinical decision! I am so pleased I get to have her as lead dentist on my treatment plan! She's is honestly the best I've seen and cannot wait for the end results! Thank you soooo much!!
Can't recommend smile rooms enough! Especially Dr Radha Sisodia. Not only did they make me feel so welcome and comfortable throughout, but they did the most amazing job and I am over the moon!
Couldn't of had a better experience with Smile rooms with my composite bonding/veneers. From start to finish, everything was explained clearly & the results are better than I imagined! All the staff are so lovely & welcoming and make you feel so at ease. Radha is the loveliest dentist and I can't thank her enough for my smile transformation 😁 Thank you Smile Rooms!
I had an Invisalign treatment with Dr Albert and I am beyond impressed with the service. I am so pleased with the final result and I would highly recommend Smile Rooms, and everyone at the practice is so welcoming.
I am so pleased to have found Smile Rooms in Windsor! Everyone there is so professional and friendly, and I've had nothing but the highest quality care. I'm so much looking forward to my Invisalign treatment, and if I can't stop smiling now, then just wait until it's done! Thank you so much!!
Good customer service from all of the staff, very friendly would highly recommend.
I had an amazing experience at Smile Rooms. I cannot thank Dr Albert enough for my composite bonding, I got exactly what I asked for. All staff are so friendly and welcoming. Thank you so much for my new smile!
Five stars is not enough!I get very nervous when it comes to going to the dentist. All the staff at Smile Rooms made me feel at ease. The receptionists always go above and beyond to help you with any enquiries and are so friendly! I had composite bonding with Dr Albert, from the moment I started the process till the end he has been so patient, understanding answered all my questions I had and overall fantastic at what he does. I'm so happy with my new teeth and I finally have the confidence to smile again! Thankyou again Smile Rooms! xx
Blown away with the professionalism, friendliness and patience of the dentist who took the time to explain every step of the procedure. Even my 7 year old who has never wanted to see a dentist agreed to having an appointment after visiting here for an emergency vaneer repair for myself! Thank you Dr Sanjeev, and the super friendly receptionists. We will be back :)
This was the first time I have had a hygienist appointment and I can't thank Smile Rooms enough for the treatment and making me realise how much it is worth doing. Michelle and Belle made the whole procedure relaxing and were great in educating me throughout. When I first went in I thought my teeth weren't really that bad and I just had the issue of trying to floss as many of my teeth are crooked and couldn't get the floss in between which is one of the reasons why I'm about to go through Invisalign treatment but after Michelle's work she was then able to floss between every tooth even though some took a bit of extra strength to get in between! The appointment was finished off with an airflow polish to remove staining and the results were amazing my teeth looked whiter straight away and I couldn't believe the difference to see and feel the gaps more in between each of my teeth, I didn't think there could be that much done and felt like I didn't want to eat again after! The hygienist is definitely worth a visit especially if you have never been before and I have already booked in my next appointment.
The smile rooms and Dr Albert provide excellent dental care. Service was professional, responsive and of a very high standard throughout the two years I was a patient. I am very happy with my new smile and would highly recommend Dr Albert and the smile rooms.
I can't thank 'Smile Rooms Windsor' enough for their utmost professionalism from start to finish.They have been a real pleasure to deal with throughout my treatment plan, with a special thanks to Dr Nigel for all his fantastic work and approachable nature!My search for a new dentist (having had some real shockers over the last few years) lead me here, and I'm so glad it did. I never felt pressured to have something done unnecessarily and at an extra cost to me at any point. Everything is explained to you in a down to earth and most importantly, completely honest manner. All the ladies working out front are exceptionally friendly and do a fantastic job also. I can't fault the professionalism of any of the staff, they are all a pleasure to deal with.The facilities are very modern and well looked after, with all the top of the range equipment in practice. There is a real sense that everyone takes a supreme pride in their work and customer service.I am over the moon with my results and new smile and couldn't recommend 'Smile Rooms' enough. It is safe to say, I'm very much looking forward to future visits to the dentist from now on.My sincerest thanks 'Smile Rooms' team :-)
I came here for an appointment with Dr Albert. All the staff were super friendly and made me feel very welcome and at ease. The composite veneers done by Dr Albert were perfect - just how I wanted them. Can't thank all the staff enough for such a great experience :)
Dentistry, like other medical specialties, can be a bit of a minefield when it comes to finding a conscientious and well qualified practitioner.For some time in the past, I was using The Windsor Centre for Advanced Dentistry, lead by one of the world's finest implantologists.I had some excellent orthodontic treatment there, by the amazing Dr. L. Frost. But I had to move on and look for a more reasonably priced dental practice in the Windsor area, without compromising on quality.The Smile Rooms team, so far, have been amazing and Dr. Albert Gajdos is incredibly friendly and approachable. Other than being a fantastic cosmetic dentist.The Reception Team are also super efficient and always incredibly friendly.I would certainly recommend this Dental Practice.
I cannot thank Smile Rooms enough for my composite bonding.A special thank you to Dr Albert for my new smile, he has been amazing throughout!Initially I was very apprehensive having gone to other dentists for consultations and not being satisfied.The whole process from start to finish was professional.The patient coordinators were very polite, bubbly and reassuring especially Jodie & Rhian.They were not pushy and encouraged me to take as much time as I needed before I made my decision.I had a video consultation with Dr Albert initially due to the pandemic who made me feel at ease throughout the whole process, helped me choose my perfect smile and did not rush or make me spend money for the sake of it!The dentist itself is very clean and the process throughout the pandemic is very well organised.I managed to get my composite bonding done in a matter of weeks which I was very happy with.Since then Dr Albert and the team have been on hand to offer any advice and support and even offer a review where needed along with 2 years cover.I am so happy with my smile and feel so much more confident.Thank you again for the amazing work you all do and for making me feel so welcome every time I come in regardless of the pandemic everyone is always smiling, very complimentary and you can feel the team culture throughout 😊
My experience at Smile Rooms Windsor was amazing, starting right from when I had my first appointment till the completion of my composite bonding. Dr Albert did an incredible job with my teeth I can't stop smiling! The atmosphere at the dentist put me at ease as soon as I walked in, I can't thank you all enough! I am over the moon.
Smiles Rooms and Dr Albert have changed my life, it's easy to see why everyone is giving them 5 star reviews they deserve it. Amazingly professional and friendly staff, I cannot recommend Smile Rooms enough.
I know it seems hard to believe that all the reviews are 5 stars, but they aren't lying! I'm a very nervous patient and Dr. Radha looked after me SO well and I was in such good hands. All the staff are welcoming and warm, and I felt so comfortable from start to finish!
A fantastic experience at Smile Rooms. I had a very pleasant experience with Dr. Radha, from the day i had my virtual consultation with her, i knew i was going to be in good hands. She was very supportive, professional and has a naturally lovely personality. I would recommend Dr. Radha to everyone. She is the best dentist I have ever had, she met all my expectations, which i am really grateful for. Also, the front desk staff made me feel right at home immediately when i walked in the door for every appointment. Everything was on time and it was an extremely professionally run office.
Such a great energy in smile rooms, really feel like the team want the best for you instead of digging into your pocket like most places for the nashers!highly recommend smile rooms!
I can not recommend Smile Rooms enough. For someone who was very very nervous about dentists in general, they've completely eradicated that fear.The staff were so friendly and they really make the place. Special mentions to Albert, Jodie, Kimberley and Fiona..all amazing! They made me feel at ease during every appointment and the process itself was very smooth, with no pain at all!For anyone unsure, it is completely worth the money and the transformation is completely life changing!
Had composite bonding with Dr Albert- he is amazing! I cannot recommend him enough. He's friendly, listened to what I wanted to achieve, understanding, talked me through my options and the process, answered all my questions.I'm so happy with my bonding. The dental nurses are fabulous, especially Sophia who was so gentle and she put me at ease. Any nerves I had, disappeared and the time I spent in the chair flew by. Wish I'd have found the Smile Rooms sooner, I'm smiling again after years of hiding my teeth. Thank you!
I highly recommend Smile Rooms based on my experience this week. They were able to schedule an emergency appointment for me on the day I called. Amazing COVID safety measures, great service and fantastic communication. The whole team is so friendly and helpful. Thank you!
Thankyou so much to Smile Rooms Windsor for my wonderful experience with you and thankyou to Albert for my amazing composite bondings on my teeth. I can't recommend this dentist highly enough. The whole team are so lovely.
Absolutely amazing experience. Love my composite bonding, I got exactly what I asked for. Staff are all welcoming and friendly. I cannot thank Dr Albert enough and highly recommend!
Where do I begin! First of all I hated dentist since I was very young! But Dr Albert made me very comfortable throughout the process. I loved that he listened to what I wanted and made it happen. I was super happy with my composed bonding and I will definitely come back for a cheeky changes I have in mind for my bottom teeth! I would highly recommend this practice and Dr Albert!
I visited the dentist at Windsor a couple of weeks ago now to have cosmetic bonding on my top 10 teeth, I was blown away with my results and I can't stop smiling! Everyone in the practice was so friendly and helpful, Dr Albert is truly amazing at his work I am so happy I choose to see him, he has exceeded my expectations. I can now smile with confidence which I haven't done in 26 years 😁
A huge thank you to the whole team at Smile Rooms Windsor and especially Dr Albert for being the best dentist I've ever had. My Invisalign treatment and bonding have transformed my smile and I'm so incredibly happy with the result! If you are hesitating, I say go for it - it is the best investment you can make!! :)
When it comes to dentists I'm very picky !I have just completed my Invisalign with Dr. Radha Sisodia. I could not recommend her highly enough. I'm so happy with the results and Dr. Radha supported me every step of the way. She was accommodating, professional and explained every step of the process. I also have a regular teeth cleanings with her. She is just amazing and made me feel so comfortable!A very professional team , willing to help even in this difficult times. Huge thanks to Amy who was very friendly and supportive during lockdown time . She managed to post out my retainers so that I could complete my Invisalign on time !Smashing service ! Fabulous clinic! Professional team! Highly recommended!Thank you ! ❤️
MichelleWhen I first arrived at the Windsor smile rooms I was met by the wonderful girls at reception who signed me in and then I met with Dr Albert!I have nothing but great things to say about him and all his staff and I knew straight away I was , at last, in the right placeHe is the best dentist I have ever been tooKind and gentle and talked me through the whole procedure for bonding which I had on Monday and I'm over the moon with the resultBetter than I ever expectedI'm truly grateful for bringing back my smileSo thank you , all , so very much
I recently attended smile rooms to have work done to straighten and widen my smile. I needed a quicker fix than the length of time braces would take, Albert patiently took me through my options one of which was composite bonding. He also suggest shaping the gums and whitening. The outcome was brilliant it has genuinely changed my whole face and I am so much more confident. I find myself smiling all the time. Albert is a gentlemen and incredibly knowledgable at what he does he had the professionalism to advise against some of my suggestion but also a relaxed open minded approach, he purposely blocked out a longer session so we could work together to make my perfect smile. If ever 5 stars was warranted this service certainly is it! Couldn't recommend more highly.
I recently had a dental checkup with Dr Radha Sisodia & it was the best dental appointment I have ever had. She was very warm and friendly. She made me feelat ease and explained in detail all I needed to know about my dental plan. We connected on a personal level & her professional yet warm approach has finally cured my phobia of the dentist! I look forward to my next appointment. The rest of the welcome team at reception were lovely too. See you soon :)
Absolutely amazing! Such a warm and welcoming team! I had my teeth bonded here a few weeks ago with Dr Radha Sisodia, she was absolutely amazing and I couldn't of asked for anyone better, very kind, polite and made me feel very comfortable throughout the treatment;)Would definitely recommend to anyone thinking of using their service10/10
I'm over the moon with my new smile, I had composite bonding and I'm so happy with the results.. got my confidence back! I'm sure my sister and cousin will also be visiting smilerooms soon for the same treatment! Thank you Dr Albert
An absolutely fantastic dentist - in the past year I have had general check-ups, hygienist appointments and 3 fillings (all after, rather embarrassingly, not having gone to the dentist for over 10 years!) and each of those occasions was a complete pleasure. The reception staff are friendly, welcoming and efficient and the dentist and their assistants are thoroughly professional in every way. I couldn't recommend Smile Rooms Windsor highly enough
I want to say a Huge THANK YOU and to express my gratitude for an amazing experience at the Smile Rooms in Windsor. I have received a wonderful care and treatment starting with Dr Hanel, Dr Albert,Dr Ramandeep Marway, Amy and Nurses during my treatment there.From my heart, 5 stars for a brilliant Team, thank you!
I recently had composite bonding done by Dr Albert. He had a bit of a tough job as he needed to match the colour to an existing older crown but he is clearly a perfectionist!I can honestly say I'm over the moon with the results and the care provided by Dr Albert and the rest of the team was fantastic from start to finish. Highly recommend!
I visited Smile Rooms Windsor for the first time yesterday. I have always been really picky with my teeth. Coming out of smile rooms I was absolutely blown away with my results. Dr Albert and the girls I met where fantastic! 10/10. Also a massive thank you to Dr Hanel.
YOU WILL NEVER WANT TO GO ANYWHERE ELSE EVER AGAIN! ✨I've been going to Smile Rooms in Reading (originally Barkingside but he moved so I did to!) to see Dr Hanal Nathwani for years to align my teeth using Invisalign, and recently visited their Windsor branch to have composite bonding treatment by Dr Albert Gajdos and OH MY GOD where do I start. To set the context, I have very low self esteem when it comes to my face as I have quite seriously misaligned jaw and uneven teeth with a missing canine, and I'm really conscious about my smile- so I'm ultra picky and have high expectations because if anything went wrong I wouldn't cope 😭... I have so much respect and trust for these guys, I could never go anywhere else!CUSTOMER SERVICEStarting with this, you will never meet more kinder, accommodating, or lovely people than the receptionists, nurses, or the Drs themselves. They actually make an effort to get to know you, they take their time with you, and make you feel extremely welcome and cared for. I've always looked forward to my appointments, and makes the travel from London well worth it!EXPERTISE + COMPLETE CAREDr Hanal and Dr Albert are craftsman. They are the masters at what they do it's no wonder they are award winning. I have felt in absolute trusted hands whenever I have visited; they take all things into consideration and have completed transformative work on me. Dr Hanal took my teeth from horrible to Hollywood with the Invisalign treatment despite my jaw misalignment, and I get so many compliments on them which is nice! Dr Albert corrected teeth on my 'missing canine' side with composite bonding, somehow amazingly creating symmetry despite my condition.VALUE FOR MONEYBoth Drs have always given me more than I paid for, whether it's extras in terms of work or with accessories. The service is incredible and worth every penny!THANK YOUI want to thank the Drs and their nurses and the receptionists for everything - there is nothing like having a beautiful smile and it's only through their care and experience I can say I have one!
I have recently started my smile journey with Smile Rooms in Windsor and so far am very impressed. I'm an extremely nervous patient (a massive wuss!) but am made to feel at ease before every appointment, especially by some of the reception team who I've met, including Jodie, Fiona, Amy and Rhian. Dr.Radha and Dr.Pritesh are extremely professional and understanding, but also smiley, friendly and both have a great sense of humour. They both are actually interested in helping me to achieve the best smile possible which is not something you see every day - all while putting me at ease too! I'm so happy I choose Smile Rooms and am looking forward to continuing on my journey with these lovely people, even the ones I haven't actually met yet as I'm sure they're just as great as the ones I have been introduced to, and am excited to eventually achieve my new and improved smile. I never thought I'd ever feel comfortable having any work done awake at the Dentist, but Smile Rooms is a real game changer and so far everything has been completely pain free. I will not be going anywhere else! Thank you 😊
Absolutely over the moon with my smile would recommend invisilgn treatment to everybody! No pain and no inconvenience- I can't stop smiling!! The whole treatment and service I received was perfect from start to finish
I recently had composite bonding done by Dr Albert at Windsor smile rooms, I couldn't recommend him enough, he achieved exactly what I wanted and my teeth are now amazing! I am beyond happy with how they turned out. From start to finish the whole experience was great, all the staff were absolutely lovely & especially Dr Albert who made me feel comfortable throughout the whole treatment. Thankyou again to everyone at Windsor smile rooms!
I don't know if anyone is really looking forward to go to the dentist but I do! The whole team working at Smile Rooms is just the best in my opinion: friendly, professional and ready to put a smile on anyone's face.
I had my composite bonding done by Dr Albert and I am incredibly happy with my results. He really did go above and beyond to create the perfect smile for me. I can smile again and my confidence is back. I can't thank him enough! I'm so glad I went to him as he really understood exactly what I wanted to achieve and made the results even more amazing for me! He really is a perfectionist and I'm so glad I went to him. Thank you
A heartfelt note of thanks! Please can you pass this on to Hanel, Albert and all the team!In life we meet a lot of people, some you will never forget because they support, encourage and guide you on a journey of self improvement and confidence; then one day when you reach your goal you may find it hard to express your gratitude for what they have helped you achieve!Well that's exactly what has happened to me over the past two years, I have been on journey with THE most talented group of people, who I cannot thank enough!!Dr Hanel and the team and at Reading Smiles and Dr Albert and the team at Smile Rooms THANK YOU, THANK YOU and THANK YOU for helping create my new smile!!!Not only are you all simply the best, you are fantastic people who make going to the dentist a pleasure!!!I have been looked after from start to finish, even in the midst of a global pandemic the team were always available to help and support (and none of us saw that coming!!)....What more can I say other than ANYONE considering starting their own 'smile journey' need look nowhere else, I cannot recommend you all highly enough!!!
Dr Albert and his team are the best!! The practice is so welcoming, clean and professional. They always put my nerves at ease. I highly recommend!!
Treatments
Fees
Cosmetic consultation
FREE
White fillings
fr £95/£135/£165
Crowns
fr £550
Veneers
fr £650
Inlay/onlay
fr £450
Composite bonding


(£180 only minimal)

fr £180/£280/£380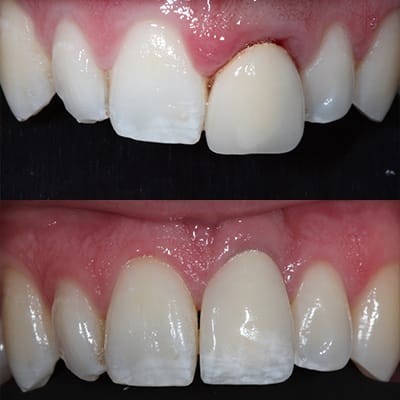 Braces - Teeth Straightening

Free initial consultation worth £95
Ideal as part of a smile makeover such as veneers
Free 3D scan worth £350
Free removable retainers worth £450
Free Enlighten whitening worth £295

Consultation
FREE
Invisalign GO braces
CALL
Invisalign I7 braces
fr £1,499
Invisalign Lite braces
fr £2,600
Invisalign Full
fr £3,300
6 Month Smiles braces
fr £1,750 per arch
Lingual braces
CALL
Affordable dental treatment with 0% finance options available
| Teeth Whitening | Fees |
| --- | --- |
| Whitening consultation | Free |
| Home whitening | £295 |
| Zoom laser whitening | £395 |
| Zoom laser and home whitening | £495 |
| Dental hygienist | Fees |
| --- | --- |
| Hygienist appointment | £57 |
| Hygienist & airflow | £78 |
| Fluoride treatment | £25 |
| Dental Implants | Fees |
| --- | --- |
| Implant consultation | £95 |
| Dental Implants | fr £2,295 |
| All On 4 Dental Implants | fr £12,000 |
Wrinkle Relaxing Injection
1 Area
fr £150
2 Area
fr £250
3 Area
fr £300
4 Area
fr £345
Cancellation & Missed Appointment Policy
If you need to move or cancel your appointment, we are happy to do so as long as 48 hours' notice is provided, this allows the team to make alternative arrangements for the surgery and those patients who require appointments. Cancellations should be made by telephone or email.
Kindly be advised that if you are unable to provide 48 hours' notice, or failure to present for a scheduled appointment will result in a 'cancelled or late payment fee'. In most cases the deposit taken will go towards the overheads still incurred by the surgery and team.
*If your appointment is 1 hour or longer there will be a minimum charge of, £67.50 per hour missed. If the deposit you have paid exceeds this amount it will be deducted. If the deposit you have paid is lower than this amount you will be required to pay the difference. *
The fee is usually based on the length of the appointment and is at the discretion of Smile Rooms.
It is our aim to telephone or write to patients after a missed appointment to understand the reason for non-attendance and to inform them about any fee or decision about their dental care.
We understand that cancellations are sometimes unavoidable due to illness or emergencies, and we will take account of all valid circumstances. In the case of extenuating circumstance, a patient may appeal the cancellation charge by contacting our Practice Manager, Weronika:
wokinghamoffice@smilerooms.co.uk